In DeFi news: the DeFi boom may be prompting the growth of a BTC-ETH bridge, a new item was served on the DeFi table – SushiSwap, Mike Novogratz said that the DeFi frenzy proves the power of bitcoin and warned of a possible correction, and after criticizing yield farming again, Vitalik Buterin revealed his vision for a new DeFi project. Also, according to Craig Wright, DeFi, Chainlink, DEXs, and stablecoins, are all a scam.
In rest of the market news: Bitcoin upped its dominance, altcoins went red, major DeFi tokens included, while ETC suffered its third 51% attack in a month. Tron soared as the genesis mining of the new SUN tokens was confirmed, and it kept rallying with JustSwap's arguable change in trading volume numbers. Unsurprisingly Ethereum gas fees went up again to an all-time high – and then it doubled. Speaking of ETH, a researcher warned that a market for it might get significantly tighter.
In rest of the news: Bithumb was found partially liable for the 2017 data leak but absolved of blame in two larger claims, and then it came out that its headquarters were being searched. Hacking of PM Modi happened at a really bad time for Indian crypto industry, the Russian Ministry of Finance wants to ban crypto miners from receiving token rewards, South Africa might impose tighter crypto tax rules, and we learned that North Korea's stolen bitcoin loot move is 'just a tip of the iceberg'.
And here are your well-deserved jokes.
__________
Morning, Crypto Twitter!
__
What have you been up to this week, CT?
__
An honest observer watching an honest farmer get rekt.
__
It's hard work. So much money to maybe gain and definitely lose.
__
Even getting there is hard work.
__
NSFW
__
…Yes.
__
Ever wondered what is DeFi leading to?
__
Ready to see it for the first time again.
__
Just when you think you had it…
__
Perseverance!
__
A case for paying attention.
__
Let's not neglect BTC. To the moon, just not back please.
__
Some Lightning DeFi coming soon, bro. Plz bro.
__
It's 'explain it in your own words' type of thing.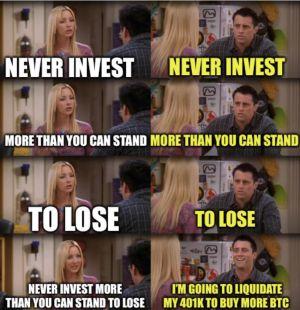 __
Let's turn to ETH now and see what's been happening there.
__
Expecting L2 solutions. A thing since men wore top hats.
__
But one can argue about calculating it all one wants.
__
And a bit of XRP for the end.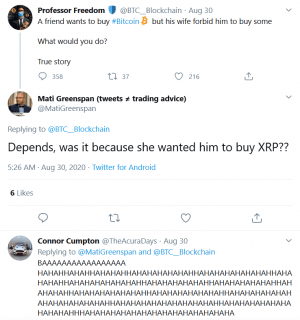 __
And your weekend crypto movie. Enjoy!