As the European Central Bank (ECB) is stepping up its efforts to introduce a digital euro. Christine Lagarde, President of the ECB, attacks Bitcoin (BTC) in addition to other crypto assets and stablecoins.
In her article, published today in L'ENA hors les murs magazine, the president of the bank, which serves 19 European Union member states that use the euro, describes said "Digital central bank money is still not available for retail payments," but the Governing Council has been considering the possibility of issuing a new central bank digital currency (CBDC), a digital euro, in response to the accelerating trend Digitization of payment transactions.
"A digital euro would complement cash and ensure that consumers continue to have unrestricted access to central bank money in a form that suits their evolving digital payment needs," said Lagarde, adding that "a properly designed digital euro will have synergies with the Payments industry and allow the private sector to build new businesses based on digital services related to the euro. "
However, she contrasted the designed CBDC with Bitcoin and other crypto assets that Lagarde sees as risky for its users, while also admitting that they have created new opportunities.
"The main risk is to rely solely on technology and the flawed concept that there is no identifiable issuer or claim. It also means that users cannot rely on crypto assets to maintain a stable value: they are very volatile, illiquid and speculative and therefore do not perform all of the functions of money, "said Lagarde.
While the president claims these assets are illiquid, the 24-hour BTC trading volume exceeded USD 20 billion today, and Ethereum (EHT), the second largest crypto asset, also exceeded that threshold today.
Bitcoin volatility graph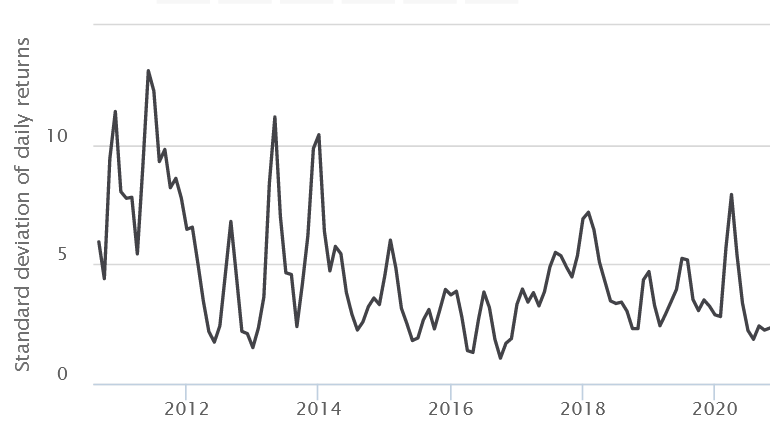 "Stable coins have recently surfaced trying to solve the problem of the lack of stability and trust in crypto assets by tying their assets to stable and trustworthy fiat money issued by states. And "global" stablecoin issuers aiming for a global presence want to continue to implement their own payment systems and clearing and settlement arrangements, "she added.
While Lagarde said stablecoins can drive additional innovations in payments, describing them as "well integrated with social media, commerce and other platforms," ​​she also said they pose risks to their users.
"If they are widespread, they could endanger financial stability and monetary sovereignty. For example, if the issuer cannot guarantee a fixed value, or if it is deemed unable to make up for losses, a run can occur. In addition, the use of stablecoins as a store of value could trigger a large shift from bank deposits to stablecoins, which could have an impact on banks' operations and the transmission of monetary policy, "said the ECB President.
Lagarde also said the stable coins backed by large tech companies could also threaten Europe's competitiveness and technological autonomy.
Global tech companies could "try to leverage their competitive advantage and control over large platforms. Their dominant positions can affect competition and consumer choice, and raise concerns about privacy and misuse of personal data, "she wrote.
In her article, the president of the bank did not provide any further details on the planned timeframe for the issue of the digital euro. However, a recent paper written by a group of ECB economists and policymakers found that adopting a CBDC could translate into a significant first mover benefit for its issuer sooner rather than later.
___
Learn more:
Limited Facebook's Libra Could Launch In January – Report
Undiscovered Inflation: Your fiat money is depreciating faster than you think
Warning: By the end of the decade, most of the physical money will be used up
"Market-controlled" currencies can live alongside the digital euro – board member of the ECB
ECB executive: State money must be reinvented
Don't take your privacy for granted as regulators are concerned about Crypto