After a strong drop earlier this week, Ethereum finally gained some strength on Wednesday. The price of the leading cryptocurrency surged 8% higher in the past 24 hours from $375 to a high around $409. Ethereum currently trades for $404 after a slight pullback from the daily highs.
Analysts are optimistic about Ethereum's prospects as technical trends align in favor of further growth. There are also fundamental trends that indicate ETH will continue its ascent in the days ahead.
Ethereum Surges Higher
Ethereum is expected to move much higher in the days ahead as the coin flips the $380-400 resistance zone into support.
One crypto-asset analyst recently said that $400 could result in a stronger move higher:
"I don't short Ethereum because im not a moron, that said currently PA needs to get above and flip $390 into support for us to start heading higher, seems to be that price as gotten comfortable below $400 recently… Thinking that tomorrow we could see $400+. Send it."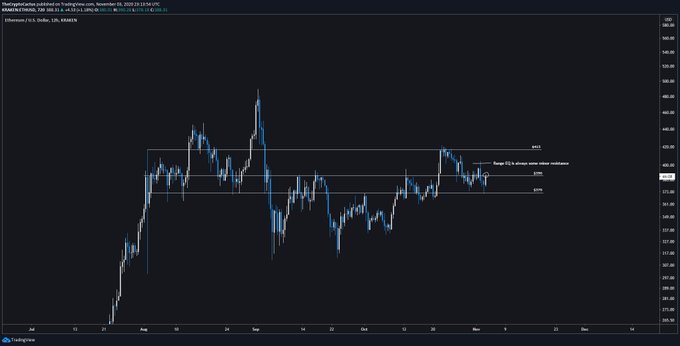 Charts of ETH's price action over the past few months with analysis by crypto trader Cactus (@TheCryptoCactus on Twitter).
Source: ETHUSD from TradingView.com
As reported by NewsBTC's Aayush Jindal Ethereum closing above its daily candle above $392 could trigger further gains:
"To start a strong rally, ether must clear the $390 resistance and then settle above $392. A successful close above the $392 resistance may perhaps initiate a larger upward move (similar to bitcoin if it clears $14,000) towards the $405 and $412 levels. Any further gains could lead the price towards the $420 resistance level."
ETH just did so when it closed its daily candle some 30 minutes ago as of this article's writing.
Fundamentals Positive for ETH
This rally comes on Ethereum 2.0's (ETH2 or Serenity) launch being confirmed for December 1st, barring any bugs. The Ethereum 2.0 deposit contract has been released, as confirmed by Vitalik Buterin, Danny Ryan, and others in the ETH space.
Analysts think that this is pivotal for the bull case as it imbues ETH with a staking premium, where staking participants can earn coins over time by validating the network.
Ethereum will continue higher over time as the technological improvements that come with ETH2 are also released, which should further benefit usage.
Featured Image from Shutterstock
Price tags: ethusd, ethbtc
Charts from TradingView.com
Ethereum Surges 8% in Past 24 Hours as ETH2 Deposit Contract Drops