Following a sharp rise in price during its first few days of trading, decentralized finance (DeFi) platform Balancer's BAL token is down by nearly 16% today – after the team behind the new protocol had to intervene to stop an exchange from continuing to exploit a weakness in the token distribution system.
The exchange in question was the crypto derivatives exchange FTX, which according to The Daily Gwei newsletter "attempted to game" the system yesterday by supplying a large amount of liquidity to the Balancer platform using two of the exchange's own tokens, USDTBEAR and USDTHEDGE.
According to blog post, these are the tokens that essentially can be printed at will by the exchange with no risk involved.
Meanwhile, the Balancer platform works by taking a snapshot of all addresses that are supplying liquidity to the platform, and then manually distributing BAL tokens proportionally to them.
.@FTX_Official is currently gaming $BAL distribution (on pace to receive >50% of this week's distribution).

Balancer uses @coingecko price feed to calculate liquidity in pools. Big players can create assets & price them as they wish to inflate numbers.https://t.co/zIESmky3NO pic.twitter.com/YE7tGV0Av4

— Predictions Exchange (@PredictionsExch) June 24, 2020
As a result of the exploit, FTX managed to receive roughly 50% of the last BAL token distribution, angering many in the relatively young Balancer community.
In response, however, the community still decided to honor the distribution of tokens to FTX, while vowing to change the rules of their distribution system so that only "whitelisted" tokens can be used for liquidity mining on the platform going forward.
The situation was also commented on by FTX CEO Sam Bankman-Fried, who posted yesterday a long Twitter thread where he argued that, although the whole situation, including the community discussion that followed, got "messy" and "really toxic for a while," the eventual conclusion of whitelisting tokens that can be used for liquidity mining on the platform was a "reasonable" one.
16)

C) In the end, the conclusion was reasonable: https://t.co/9SsXTAu9pK

D) Whitelisting will be enacted, which I think is good for the project

E) Eventually discussion became productive, civil, and understanding

— SBF (@SBF_Alameda) June 24, 2020
A few hours later, however, Bankman-Fried again took to Twitter, saying that his exchange has listed BAL token both on the spot and futures market, and that it will donate roughly 2,000 BAL tokens to a charity of Balancer Lab's choosing.
We'll also be donating roughly 2,000 BAL to the charity of @BalancerLabs's choice <3 https://t.co/WQoVuGrRKB

— SBF (@SBF_Alameda) June 25, 2020
According to The Daily Gwei's author and SetProtocol product marketing manager Anthony Sassano, the whole situation demonstrates just how difficult it can be to design decentralized governance systems, especially when one also has to make sure the system cannot be gamed by anyone.
"Today the Balancer Labs team learnt that lesson the hard way as a large centralized exchange attempted to game the rules of the BAL governance token distribution," writes Sassano.
Balancer's BAL tokens had made a splash in the market immediately after they were first distributed to users on Wednesday, more than doubling in price in a single day.
Since then, the token's price has been relatively stable at around USD 20, until it crashed to roughly USD 15 today (11:50 UTC).
Although BAL's price surge was massive in the first day of trading, the price has also been supported by the use of the Balancer platform itself, with the total locked USD value seeing exponential growth over the past three months, according to data from DeFi Pulse.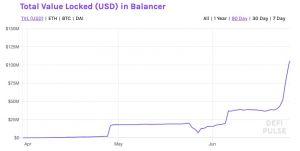 Meanwhile, crypto exchange Coinbase yesterday revealed that it has decided to list another hot DeFi token, namely Compound Finance's COMP, on its trading platform. The listing happened on a very short notice of just 15 minutes, after the exchange earlier in June said it is "exploring the addition" of the asset.
We have asked the Balancer Labs and FTX for comment and will update should they reply.