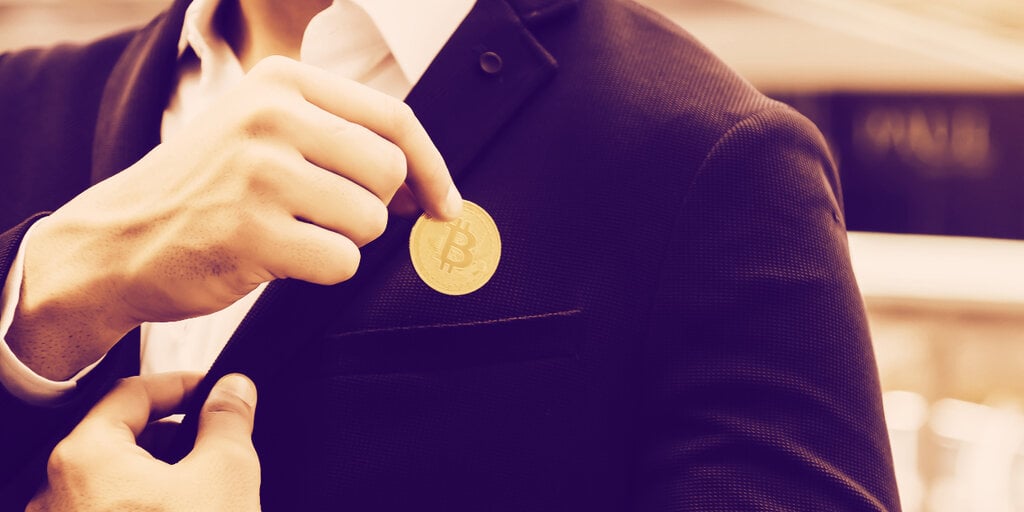 In brief
Institutional investors are increasingly buying up Bitcoin.
Several major firms have collectively purchased hundreds of millions of dollars worth of the cryptocurrency.
They include investment funds holding Bitcoin on behalf of investors, and companies that have bought Bitcoin as a reserve asset.
In the last few months, reports that major institutional investors are scooping up Bitcoin (BTC) in droves have added fire to what can now be considered the biggest crypto bull run since 2017.
Several major firms have collectively purchased hundreds of millions of dollars worth of Bitcoin, while retail interest in Bitcoin has also skyrocketed—sending BTC to its highest value since January 2018.
As Bitcoin continues its meteoric growth, we take a look at the companies who are stockpiling the cryptocurrency—both on behalf of investors as funds, and as a reserve asset.
Grayscale
Grayscale Investments is undoubtedly one of the biggest names in the Bitcoin space—and for good reason.
As a cryptocurrency investment fund, Grayscale allows accredited investors to gain exposure to Bitcoin and a variety of other digital assets through several trusts and funds, without needing to hold or manage these assets directly.
Grayscale has by far the largest Bitcoin portfolio of any institutional investment platform, with over $7.4 billion in BTC currently under management in the Grayscale Bitcoin Trust. In total, Grayscale Investments now holds more than 2% of the Bitcoin total supply, with 481,711 BTC currently under management according to bitcointreasuries.org. GBTC shares are currently trading on the OTCQX under the ticker GBTC.
Barry Silbert, Grayscale's founder and CEO, is (unsurprisingly) an outspoken Bitcoin advocate and can be frequently found on Twitter highlighting its performance.
CoinShares
CoinShares Group, one of the earliest pioneers in digital asset investments, also joins the list of public companies managing substantial Bitcoin assets.
The company is widely regarded as a pioneer in the cryptocurrency investment industry, and was the first firm to launch a regulated Bitcoin hedge fund and exchange-traded Bitcoin product. Nowadays, CoinShares offers two exchange-traded Bitcoin products: Bitcoin Tracker One and Bitcoin Tracker Euro—both of which can be traded on XBT Provider AB.
As of November 2020, CoinShares' assets under management include managed well over $1 billion worth of crypto assets, including 69,730 BTC—itself currently worth just over $1 billion. Though not quite as impressive as Grayscale's almost a half a million BTC strong coffers, CoinShares investment still represents almost 0.4% of the current Bitcoin circulating supply.
"We see this $1 billion dollar level as a validation of our belief that Bitcoin and other digital currencies have a role to play in investment portfolios," said CoinShares CEO Jean-Marie Mognetti in a recent press release.
MicroStrategy
MicroStrategy, a prominent business analytics platform, has adopted Bitcoin as its primary reserve asset.
Through August and September, the firm—which produces mobile software and cloud-based services—purchased a total of $425 million worth of Bitcoin, and now holds at least 38,250 BTC in reserve—equivalent to more than half a billion dollars in BTC.
Unlike other CEOs who typically shy away from discussing their personal investments, MicroStrategy CEO Michael Saylor has made it public that he personally holds a total of 17,732 BTC—currently worth over $270 million.
As per data from BitInfoCharts, this positions Saylor among the top 100 Bitcoin owners—assuming it is all held within a single address. It's something of an about-face for the MicroStrategy CEO, who in 2013 claimed that Bitcoin's days were numbered.
Galaxy Digital Holdings
Crypto-focused merchant bank Galaxy Digital Holdings holds 16,651 BTC, according to bitcointreasuries.org—worth just over $257 million at current prices.
Founded by Michael Novogratz in January 2018, the company has partnered with crypto firms including Block.one and BlockFi. Novogratz is, unsurprisingly, a keen advocate for Bitcoin. In April 2020, he noted that stimulus measures announced in response to the coronavirus pandemic were driving interest in cryptocurrencies, calling it Bitcoin's "moment" and arguing that "money doesn't grow on trees."
However, later in the year Novogratz argued that the cryptocurrency's volatility meant that gold was a safer bet, stating that, "My sense is that Bitcoin way outperforms gold, but I would tell people to hold a lot less than they do gold. Just because of the volatility."
3iQ
Canadian crypto-asset portfolio manager 3iQ holds 8,295 BTC, worth just over $128 million, according to bitcointreasuries.org. Following several years of back and forth with regulators, 3iQ's Bitcoin fund was listed on the Toronto Stock Exchange (TSX) in April 2020, enabling Canadians to invest in Bitcoin through their regulated investment managers. The Winklevoss twins' exchange Gemini acts as custodian for the fund.
In September 2020, the regulated BTC fund was listed on the Gibraltar Stock Exchange. "We expect to co-list this fund around the world in major exchanges," 3iQ President and CEO Fred Pye told Decrypt. "Our vision is for this to be the biggest regulated Bitcoin fund in the world."
3iQ is also behind a Canadian dollar-backed stablecoin called QCAD, which launched in February 2020.
ETC Group Bitcoin ETP
London-based ETC Group has accumulated 5,215 BTC, worth just over $80 million, in assets under management as part of its exchange-traded product (ETP). The product, which boasts of being Europe's first centrally cleared, exchange-listed Bitcoin ETC, was listed on Deutsche Börse's XETRA in June 2020—hot on the heels of German financial regulator BaFin's official recognition of cryptocurrencies as financial instruments in March.
Upon the launch of the BTCetc Bitcoin Exchange Traded Crypto (BTCE), ETC Group CEO Bradley Duke noted that, "We are transporting Bitcoin into the fold of mainstream, regulated financial markets."
In its September 2020 report, ETC Group noted that, "With current Nasdaq and big-tech stock price-action analogous to Bitcoin in 2017, more tech-investors are looking at Bitcoin now."
Square Inc.
Square, an online payments app and fiat on-ramp to Bitcoin, is another popular firm to adopt Bitcoin as a reserve asset.
The firm, which is founded and managed by Twitter's Jack Dorsey, recently completed a $50 million investment into the cryptocurrency—representing one percent of the company's assets. Square now holds a total of 4,709 BTC, equivalent to just over 0.025% of the Bitcoin circulating supply.
"More important than Square investing $50mm in #Bitcoin is sharing how we did it (so others can do the same)," said Dorsey in a tweet.
As part of its efforts to make Bitcoin more accessible to everyday investors, Square added support for recurring Bitcoin purchases, allowing users to dollar-cost-average (DCA) their way into Bitcoin to minimize the impact of volatility on their investment.
Moreover, as part of Dorsey's plans to make Bitcoin more intuitive to the masses, Square Crypto—a subsidiary of Square—is offering up grants to anybody who can help develop Bitcoin's user experience, scaling, privacy, security, and more.
One of these grants was recently awarded to Maggie Valentine, who will be using the money to help build a more user-friendly Bitcoin wallet.