OKEx, the global cryptocurrency derivatives and the spot trading platform a few inches away from a top position in the crypto industry. It has maintained a good second position in trading volumes for three consecutive months.
The last CryptoCompare Exchange Review states that crypto derivatives volumes reached a record high of $ 602 billion in May 2020, after recording a growth of 32%. Even the volume of the spot trade rose just 5% to $ 1.27 trillion during the same period.
According to the report, trading volumes on OKEx rose the highest of the best exchanges in May compared to April. The one-month percentage change on OKEx was 25.7% at $ 52.1 billion compared to Binance at + 18.2% and Coinbase at + 22.4%. Trading volumes on Binance and Coinbase in May 2020 were $ 57.2 billion and $ 11.2 billion, respectively.
Month-to-month crypto derivative volumes witnessed a massive increase in May 2020, with institutional player CME rising 59% to $ 7.2 billion. When it comes to derivatives exchanges, Huobi continued to lead the race with monthly volumes of $ 176 billion, followed by OKEx at $ 152 billion with a 33% monthly increase from April 2020, placing it in second place.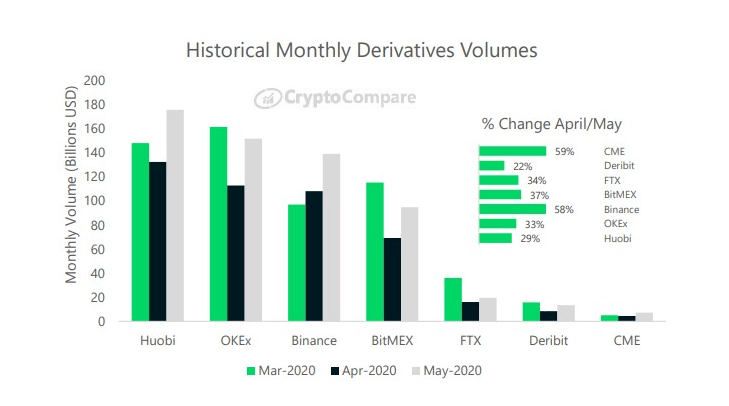 It is not the first time that OKEx has been mentioned in CryptoCompare's Exchange review. Known for a diverse range of crypto trading products and a strong global user base, OKEx is one of the leading players in the crypto sector. The platform is known to regularly launch new features and updates to meet the diverse trading needs of its community.
In addition to being a world-class derivatives and spot trading platform, OKEx is strengthening its options trading portfolio by launching new instruments. The first offering, the BTC / USD options, has recorded an average daily transaction volume of $ 10 million. Recently, OKEx also released ETH / USD options, which will be followed shortly by EOS / USD options on June 18.
At this rate, OKEx can take the top spot as it is also one of the best options trading platforms.
 
Image by 272447 from Pixabay