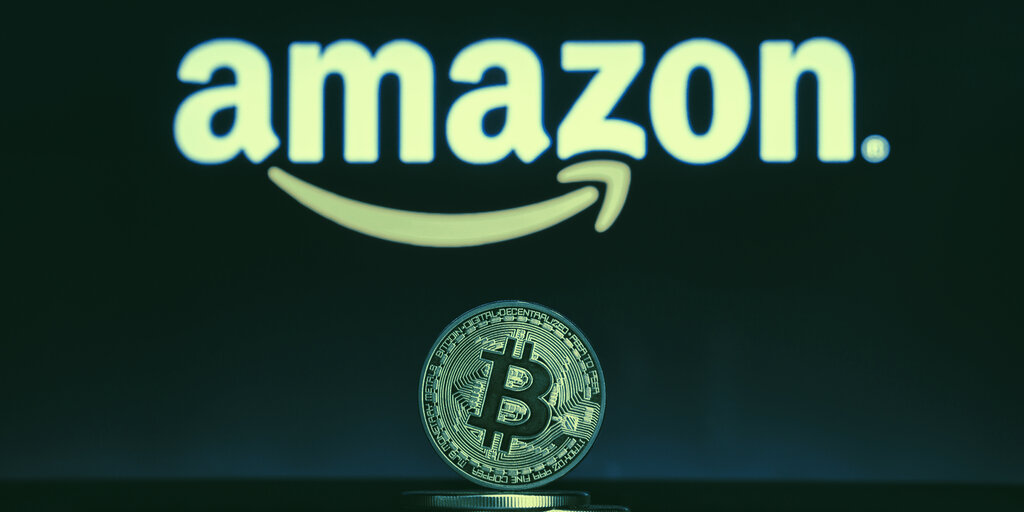 In brief
To date, Amazon has shunned Bitcoin and other cryptocurrencies as payment methods.
Obstacles to adoption include scalability, and the market volatility risks associated with holding crypto.
Amazon already owns several crypto-related domain names, including amazonbitcoin.com.
With annual revenues of $280 billion, Amazon is a global juggernaut of e-commerce. To date, however, it's shunned Bitcoin and other cryptocurrencies as payment methods (though it's more than happy to sell you goods emblazoned with the Bitcoin logo).
For Bitcoin advocates, the prospect of the world's biggest e-commerce company accepting Bitcoin payments is a tantalizing prospect—one that would signal mainstream acceptance of cryptocurrency and propel a new wave of Bitcoin adoption. 
Amazon has a massive 47% market share of the US e-commerce retail market, with net revenues in excess of $280 billion (as of 2019), and plays host to over 150 million Prime users worldwide. And that's just Prime. While undisclosed, Amazon's user base is undoubtedly much higher.
As luck would have it, millennials, who count themselves as some of Bitcoin's biggest fans, also have an affinity for Amazon—outpacing Baby Boomers, Gen X, and Gen Z when it comes to membership.
So, with over 150 million known customers—many of whom come from a demographic that's enthusiastic about cryptocurrency—it seems like Amazon accepting Bitcoin payments should be a no-brainer. And yet, from as far back as 2014, Amazon has refused to accept Bitcoin. So what's the hold-up?
The barriers to Amazon adopting Bitcoin
There are, it turns out, plenty of obstacles—not least of which is Bitcoin's notorious volatility.
"To directly take Bitcoin as a method of payment, Amazon would have to build processes and procedures to accept, hold and manage Bitcoin and thousands of other cryptocurrencies," Sean Rolland, director of product at BitPay, told Decrypt. 
"They would have to assume the inherent market volatility risks associated with holding crypto on their balance sheet and selling crypto to/through a crypto exchange in exchange for fiat currency," he added. 
It's fair to say BitPay knows a thing or two about accepting Bitcoin; after all, the firm provides Bitcoin payment services for thousands of businesses worldwide. Indeed, BitPay also provides a way to buy on Amazon using Bitcoin, albeit indirectly, through purchasing prepaid gift cards using the cryptocurrency. But Rolland points out that the potential hiccups run deeper than just volatility; some of the biggest obstacles include keeping up with all of the technical aspects.
Node support, chain management, accepting payments from custodial and non-custodial wallets, and even supporting more crypto coins that their users will inevitably ask for are all issues Amazon needs to consider, argues Rolland.
Compliance with differing regulatory jurisdictions is likely also a source of anxiety for the global retailer. But for Danny Scott, the founder of Bitcoin services hub CoinCorner, the biggest turn-off is Bitcoin's inability to scale.
"From a payment perspective, Bitcoin isn't quite ready for that level of scale," Scott told Decrypt. 
Amazon achieved an estimated 636 transactions per second (TPS) on Prime Day 2016—a record-breaker for the firm. At present, Bitcoin can only muster around seven TPS. This scarcely represents a drop in the ocean compared to payment processors such as Visa and MasterCard, capable of handling around 65,000 TPS.
Still, Scott remains optimistic that scaling solutions such as the Bitcoin Lightning Network may provide all the scale Bitcoin needs. More so, in fact, than visa and MasterCard combined. Per the Lightning Network whitepaper, the second layer scaling solution cites potential speeds of millions of TPS when it's fully functional.
In its current state, however, not even Lightning is in a position to facilitate the likes of Amazon.
Does PayPal's entry change anything?
In October 2020, after years of deliberation, digital payments giant PayPal announced cryptocurrency buying and selling features, enabling PayPal users to buy using Bitcoin, Ethereum, Bitcoin Cash, and Litecoin.
Although some crypto enthusiasts expressed disquiet at PayPal's policies, which prevent crypto being transferred out of the company's digital wallets, the move was seen as a powerful signal of mass cryptocurrency adoption. The company also neatly circumvented issues around Bitcoin's volatility by automatically converting crypto payments to fiat at the point of sale. 
With PayPal having dipped its feet and setting a precedent,  Rolland submits that the notion of accepting Bitcoin will become too difficult for others to resist.
"PayPal deciding to offer crypto for sale means that more consumers will have crypto to spend online, especially when the price of Bitcoin and other coins increases," he explained. "Merchants, including Amazon, will want to be ready to accept crypto as a payment means in order to capture sales."
Rolland maintains that accepting cryptocurrency greatly expands a merchant's sales opportunity into international markets where accepting credit cards is not practical.
"It also reduces high fees and increases payment transparency and efficiency," he adds. "Cryptocurrency is valuable because it is used to trade for goods and services on a global basis without the risk of fraud or identity theft."
Scott agreed, telling Decrypt, "It's only a matter of time before Amazon accepts Bitcoin." 
"It's only a matter of time before Amazon accepts Bitcoin." 
Danny Scott
In 2013, Amazon snapped up the domain name amazonbitcoin.com; four years later it added the domains amazonethereum.com, amazoncryptocurrency.com and amazoncryptocurrencies.com. For the moment, those addresses simply redirect to the main Amazon.com homepage; but it shows that Amazon is, at least, aware of the potential of cryptocurrency and staking out its territory, just in case.
For Scott, the first step might not see Amazon accepting Bitcoin payments, but following in the footsteps of MicroStrategy and Square, who recently joined the list of public companies holding over $6.7 billion in Bitcoin. "This may be years away yet, but it's becoming inevitable that global companies will all begin to have exposure to Bitcoin in some form," he said.
Certainly, it's not out of the realms of possibility that Amazon would choose to walk before it can run, onboarding Bitcoin first as a store of value before rolling it out to retail. But as far as accepting payments in Bitcoin, Amazon may choose to play the long game, waiting until the kinks in the system are ironed out by early adopters.