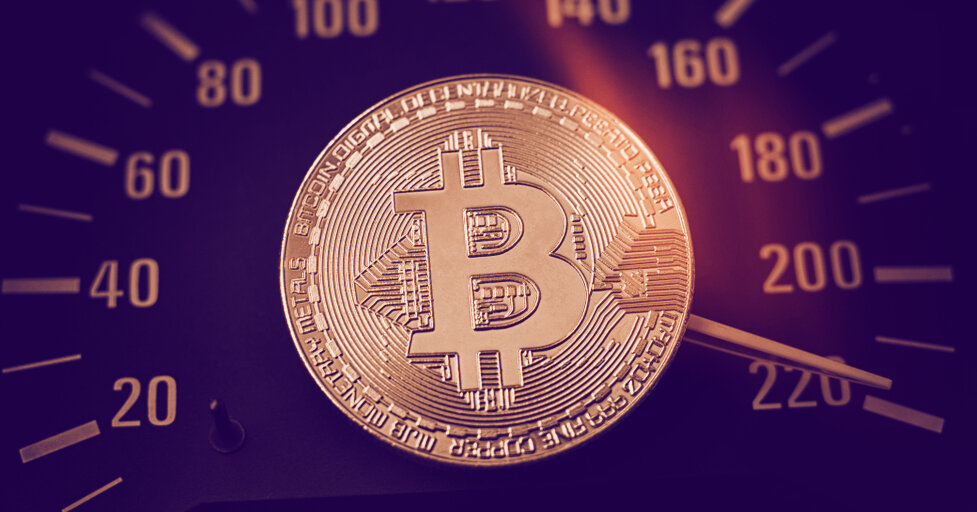 In brief
Bitcoin's price has been increasing for months, and there are several reasons behind the surge.
High-profile figures and companies have expressed support for Bitcoin.
Other reasons include Bitcoin halving, which also has a direct impact on Bitcoin's price.
The price of Bitcoin is above $16,000, having broken through for the first time in three years. Its current price of $16,081 represents a 28% increase in value over the last three months. 
It's been a rapid rise since March, when Bitcoin drastically fell to its lowest point of the year, touching as low as $4,000. The coin has continued to bounce back and has fought its way above the $10,000 price point, going on to make new recent highs—and hit values not seen since Bitcoin's epic 2017 bull run. Yet this time, an entirely different set of circumstances are accelerating Bitcoin's price to new highs.
Why is Bitcoin going up? 
There are a multitude of reasons for Bitcoin's price rise. Investment from large institutions like MicroStrategy have led the way, as have major companies like Grayscale managing Bitcoin for their own clients. What's more, it's now easier to buy Bitcoin since PayPal began letting people buy and sell Bitcoin. 
Bitcoin's total supply has also halved, and this has also played a role in Bitcoin's price increase. Each of these individual factors have combined to generate an impressive bull run for Bitcoin during the second half of 2020. But it all began with MicroStrategy. 
The MicroStrategy Effect
From August to September of this year, business intelligence firm and international giant—MicroStrategy—invested $425 million in Bitcoin. 
Following MicroStrategy's investment, Square invested $50 million—1% of the company's total assets—into Bitcoin on October 8, 2020. 
Since these investments, MicroStrategy and Square have made significant profits of 46% and 53%, with each company's Bitcoin now worth $620 million and $76 million respectively. 
These big names have also become some of the most outspoken advocates for Bitcoin in recent months. 
MicroStrategy CEO Michael Saylor has been praising Bitcoin publicly. When his company first announced its investment intentions, Saylor described Bitcoin as "digital gold," saying that the cryptocurrency is "harder, stronger, faster, and smarter than any money that has preceded it."
Similarly, Amrita Ahuja—who was Square's chief financial officer when the company made their Bitcoin investment—said, "We believe that Bitcoin has the potential to be a more ubiquitous currency in the future," adding that, "For a company that is building products based on a more inclusive future, this investment is a step on that journey."
These investments and moments of great public praise for Bitcoin seemed to begin with MicroStrategy's first investment, and has thus been dubbed the "MicroStrategy Effect" by Jason Deane, Bitcoin analyst at Quantum Economics. Deane added that these moves have "kick-started an institutional scramble to secure as much Bitcoin as possible."
These statements have also been accompanied with very public support for Bitcoin from other parts of the investment world.
Public support for Bitcoin investments
Bitcoin's positive run in the second half of 2020 has seen some major names embrace the cryptocurrency. 
JPMorgan is one of the biggest examples of this. In 2017, JPMorgan's CEO, Jamie Dimon, labelled Bitcoin a "fraud." This October, the investment bank said Bitcoin is solidly competing with gold, and that "the potential long-term upside for Bitcoin is considerable."
Paul Tudor Jones, a giant in the hedge fund industry, likened buying Bitcoin to investing early in tech. "Bitcoin has a lot of the characteristics of being an early investor in a tech company, and I didn't realize it until after unfortunately I came by your show and got besieged by God knows how many different people on Bitcoin," Jones said on CNBC's Squawk Box (which partner show CNBC Fast Money has also been particularly bullish). 
What's more, Stanley Druckenmiller, a billionaire investor who was previously dismissive of Bitcoin, said the famed cryptocurrency might just be better than gold. "I own many many more times gold than I own Bitcoin, but frankly if the gold bet works, the Bitcoin bet will probably work better," Druckenmiller said this month. 
Yet as these investors proclaim Bitcoin's virtues, many institutional investors are following suit.
Grayscale Investments and Bitcoin custody
Grayscale Investments, an asset management company, is at the forefront of providing custodial services for wealthy Bitcoiners. 
Last week, Decrypt reported on how Grayscale Investments had picked up over 40,000 Bitcoin—worth over $600 million at the time of writing—for its clients. Yet, Grayscale is not the only player in town. 
A total of 85,000 Bitcoin, worth approximately $695 million, has been bought up by both Grayscale and CashApp, a mobile payments service owned by Square. During the same period—Q1 of 2020—a total of 163,800 Bitcoin had been mined, meaning that both companies collectively bought the equivalent of about half of the total Bitcoin mined in that quarter.
These figures are prompting concern that Bitcoin will soon be in short supply, as such massive amounts of the cryptocurrency are being snapped up by wealthy investors and giant companies, rather than your average Joe. 
Bitcoin halving: Squeezing the supply
The Bitcoin halving likely had an impact on Bitcoin's price. The Bitcoin halving happens every four years and cuts the number of coins miners receive for adding new blocks to the Bitcoin blockchain in half. So from May onward, only half as much Bitcoin was being created as in previous months.
"With the Bitcoin halving in May, this stream of supply has halved, meaning that fewer Bitcoin are put up for sale by miners. This can contribute to a shortage of supply and therefore to a rising Bitcoin price," Elias Strehle, researcher at the Blockchain Research Lab, told Decrypt. 
This is basic economics, and not simply confined to Bitcoin mining, or the wider cryptocurrency industry as a whole. If demand stays the same but the supply decreases, this puts upward pressure on the price.
"Think of apples: If this year's harvest is extraordinarily good, then prices of Apples will fall. If, however, apples are scarce due to a bad harvest, then prices of Apples go up," Ingo Fiedler, co-founder of the Blockchain Research Lab, told Decrypt. 
All of these reasons have positively impacted Bitcoin's price over the last few months, but one factor—which is also best suited to generate mass Bitcoin adoption—still remains. 
PayPal and cryptocurrency
PayPal, the international payments giant, announced this October that it would launch cryptocurrency buying and selling features on its platform. It then confirmed yesterday that all of its customers could now access Bitcoin—and plans to bring this feature to Venmo.
This launch included the ability to buy and sell four cryptocurrencies, namely: Bitcoin; Bitcoin Cash; Ethereum; and Litecoin. 
As giants of the finance industry like MicroStrategy, Square, and Grayscale Investments have contributed to perceptions of Bitcoin as a legitimate asset, PayPal's arrival on the scene holds the most promise for Bitcoin's hopes to hit the mainstream. 
"Just bought Bitcoin on Paypal, they made it super easy.  This is how Bitcoin goes mainstream," said a Twitter user under the pseudonym BitcoinBF. 
PayPal used to question Bitcoin's suitability as a currency, but now, it's just one of many big names jumping on the Bitcoin bandwagon. And as it plows in alongside everyone else, it's no wonder that Bitcoin's price has been on fire.